Bouillabaisse Marseilles. The words themselves are wonderful to speak out loud. Bouillabaisse Marseilles. The sounds are as sumptuous as the taste of the soup itself. The legends and realities of myth, migration, and the Mediterranean join worlds and food cultures into this one superb dish.
The origins are romantic. The ancient port city of Marseilles leads up the French Riviera to St. Tropez, Cannes, and Nice. Then, a bit further, the Italian Riviera connects southward around Sicily and across the Adriatic Sea to Greece. Two thousand five hundred years ago, seafaring Greeks reversed this route and founded the city of Marseilles. Then came the Roman Empire. Then French sovereignty. There is a fusion of Greek, Italian, and French cultures in Bouillabaisse Marseilles, which is also known more widely as Mediterranean Fish Soup. But with the French National Anthem, La Marseilles, written in the city, and because the soup is claimed to have been first made by fishermen and their wives, it is quintessentially French.
Over the years, this classic stew has been transformed and is often featured in Michelin-starred restaurants. But it does not take a Michelin chef to make this gorgeous entrée. You can do it yourself in your own kitchen. This Sumptuous Bouillabaisse Marseilles: A Classic and Easy Fish Soup is the best fish soup ever made. I say that without reservation! Serve it proudly with Ciabatta Bread Temptation or pieces of a warm baguette for a classic touch.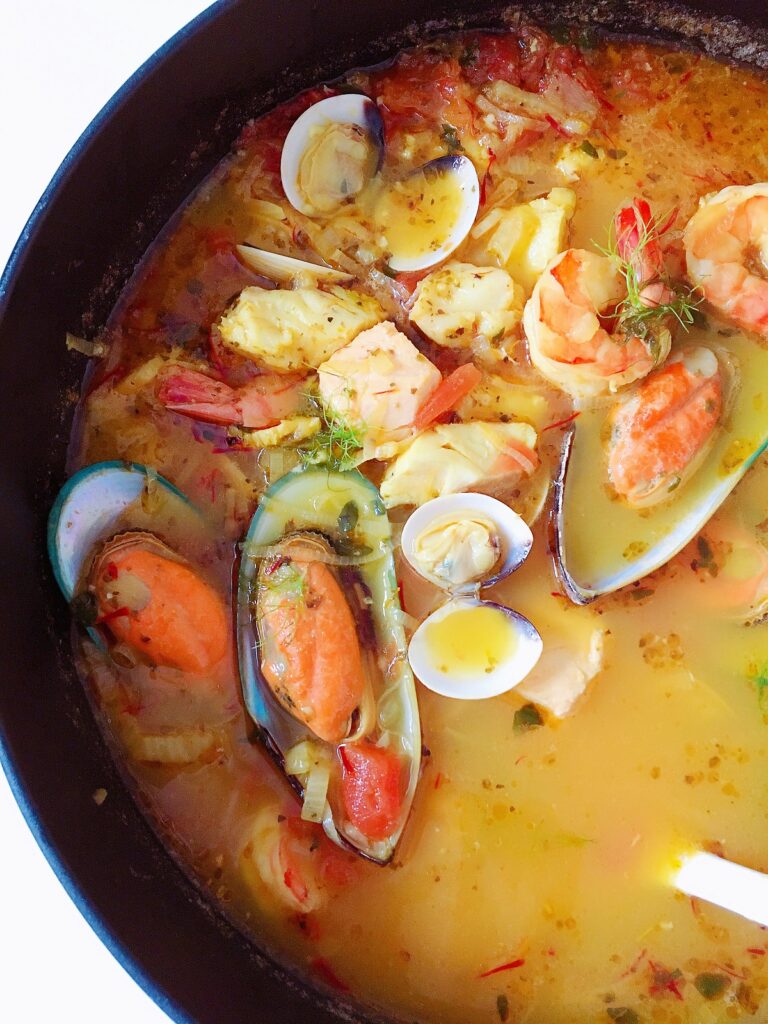 Seafood
I have selected five seafood delights: Shrimp, Salmon, Cod, Clams, and Green Mussels. Clams can be optional but, once used, quickly seem mandatory to reach glorious levels of taste and gorgeous heights of presentation in an inexpensive way. Some chefs add lobster claws, but they are too expensive for my budget! I prefer selecting the ingredients from the local fish market, but if this is impossible, I do not hesitate in using reputable frozen brands, and even move from Mediterranean sources. For example, I have used Shrimp from the South Carolina coast, Clams from Vietnam, Salmon from Norway, Cod from Boston, and Green Mussels from New Zealand. Bouillabaisse Marseilles accommodates a great variety of substitutions.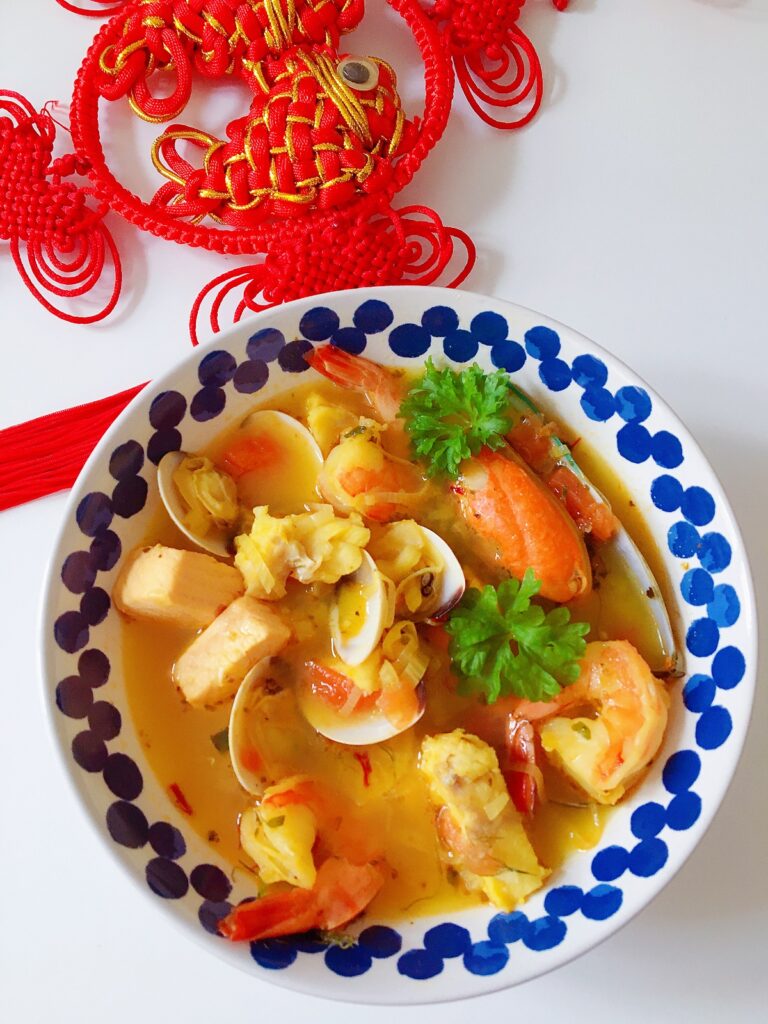 Spices
There are a few spices that are key to the classic taste of Bouillabaisse. You need to have Thyme (preferably fresh), Marjoram (fresh or dry), Cayenne Pepper, and Saffron. Saffron is expensive because the stamens of flowers must be hand-picked one at a time. If you prefer, you can substitute 1/4 tsp of Turmeric in this recipe; but, when possible, use the Saffron. Its flavor is unique and it provides a nice color to the soup that is nearly impossible to match.
Here are the Ingredients: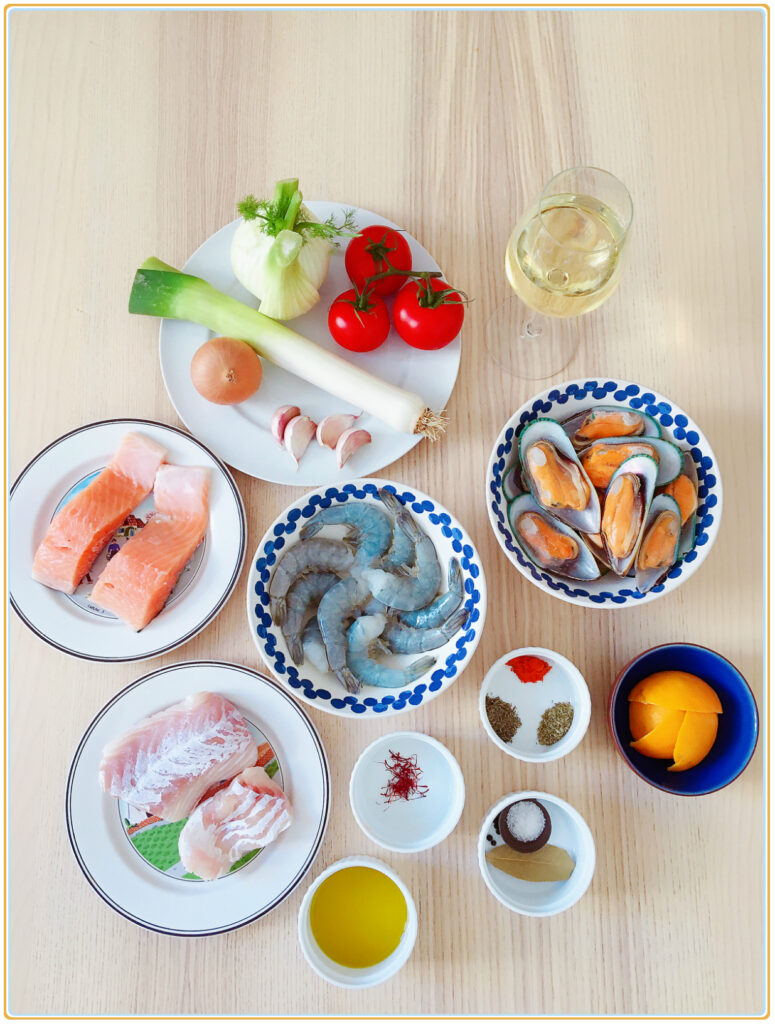 Here is the Recipe: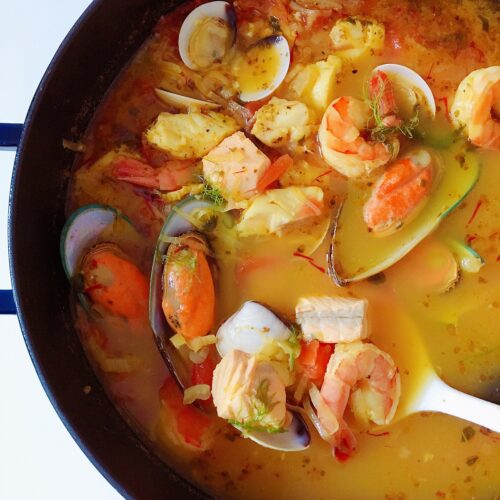 Sumptuous Bouillabaisse Marseilles: A Classic and Easy Fish Soup
This Bouillabaisse Marseilles is a classic and easy fish soup that gives you a sumptuous and unforgettable taste!
Print
Pin
Rate
Ingredients
Seafood
300

g

/ 11 oz Large Shrimp

250

g

/ 9 oz Salmon, skin removed, cut into 1 inch wide strips

250

g

/ 9 oz Cod, cut into 1 inch wide strips

300

g

/ 11 oz Clams (optional, but I always use them)

300

g

/ 11 oz Green Mussels
Broth
6

cups

Water

2

Bay Leaves

10

Whole Black Peppercorns, uncracked

10

Sichuan Peppercorns, uncracked (or crack them for real spiciness)

Peel from 1 Orange (you can use dried Orange peel)

Shrimp Shells
Spices
1

tsp

Fresh Thyme

1

tsp

Fresh or Dry Marjoram

1/2

tsp

Saffron Threads

1/2

tsp

Cayenne Pepper
Other Ingredients
4

tbsp

Extra Virgin Olive Oil

Pinch of Sea Salt

1

Medium Fennel Bulb, thinly sliced

1

Medium Onion, diced

1

Leek, white part only, thinly sliced

5

Garlic Cloves, minced

4

Medium Tomatoes, skins and seeds removed and diced

1 1/2

cups

Dry White Wine
Instructions
Peel the Shrimp and reserve the Shrimp Shells. In a large pot, on medium heat, bring the Water to a simmer. Add the Shrimp Shells, Black Peppercorns, Sichuan Peppercorns, Bay Leaf, and Orange Peel. Simmer gently for 20 minutes.

Meanwhile, in a heavy soup pan, heat the Olive Oil over medium heat. Add the Fennel, Leek, Onion and a pinch of salt. Slowly stir until tender but not browned for about 15 minutes.

Add the Garlic and sauté for 3-4 minutes until the Garlic is fragrant.

Add the Tomato and the White Wine. Turn up the heat to medium-high until the Wine begins to boil. Cook until the wine is reduced by about half.

Sift the Shrimp and Orange stock into the pan. Add the remaining spices: Thyme, Saffron, Cayenne Pepper and Marjoram. Simmer for about 10 minutes as the color changes to a warm yellow.

Add the Salmon and Cod. Cook for about two minutes.

Add the Green Mussels and Clams. Cook for another two minutes.

Add the Shrimp. Cook for two more minutes until the Shrimp is nicely pink. Remove from heat and ready to serve!
Video
Notes
Once again, Clams may be "optional," but I always use them to make the soup so much more tasty and artsy!
If you do not have fresh Orange Peel, you can substitute with Dry Orange Peel.
The Salmon and Cod always taste better when they are fresh, but frozen fish is also very good.
You can reserve the fennel fronds as a garnish.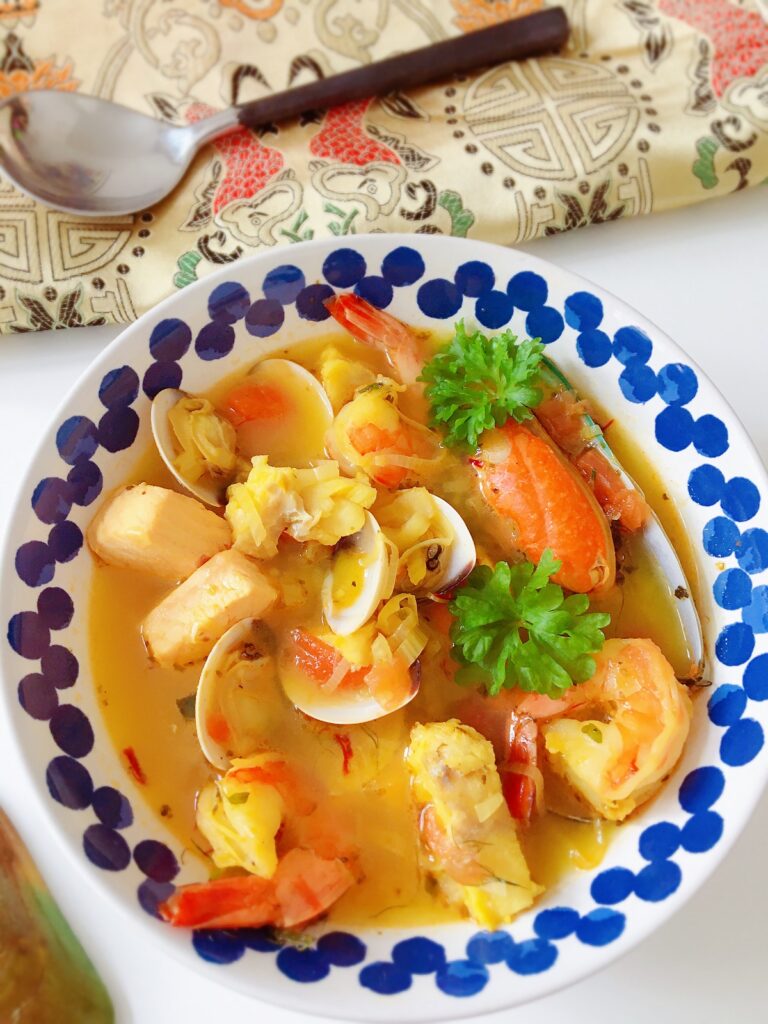 Isn't this a perfect meal for seafood lover? It is such a classic and easy fish (seafood) soup with a glorious taste and appearance! It is a clear reminder for me of the historic port of Marseilles. The taste is subtle and delicate. If you like spicy fish, you can crack the peppercorns into the mix. Also check out my Sichuan Chili Boiled Fish recipe —which is a completely different experience!
I hope you enjoy this Sumptuous Bouillabaisse Marseilles: A Classic and Easy Fish Soup.
*Special thanks to my bf for helping me with this recipe.