German Pork Schnitzel (schweineschnitzel) is definitely a meal to enjoy. A Schnitzel is a thin slice of meat seasoned and fried in a flour, egg, and breadcrumb coating. Many people use the term "Schnitzel" to mean "Weiner Schnitzel"—which is a delicious veal schnitzel made famous in Vienna, Austria. In truth, Schnitzels vary and almost any meat can be used. Chicken and Beef are popular. I make many kinds but, personally, I love a classic German Pork Schnitzel, spiced up to meet my love of Sichuan food.
My fusion recipe adds a few crushed Sichuan Peppercorns (and sometimes a bit of cumin!) to deliver a special Spicy German Pork Schnitzel. Sichuan food is known for the tingling and numbing sensations derived from the Sichuan Peppercorns. You will be surprised how spectacular this Sichuan flavor is when used to season the Schnitzel. Lemons are required for perfect balance.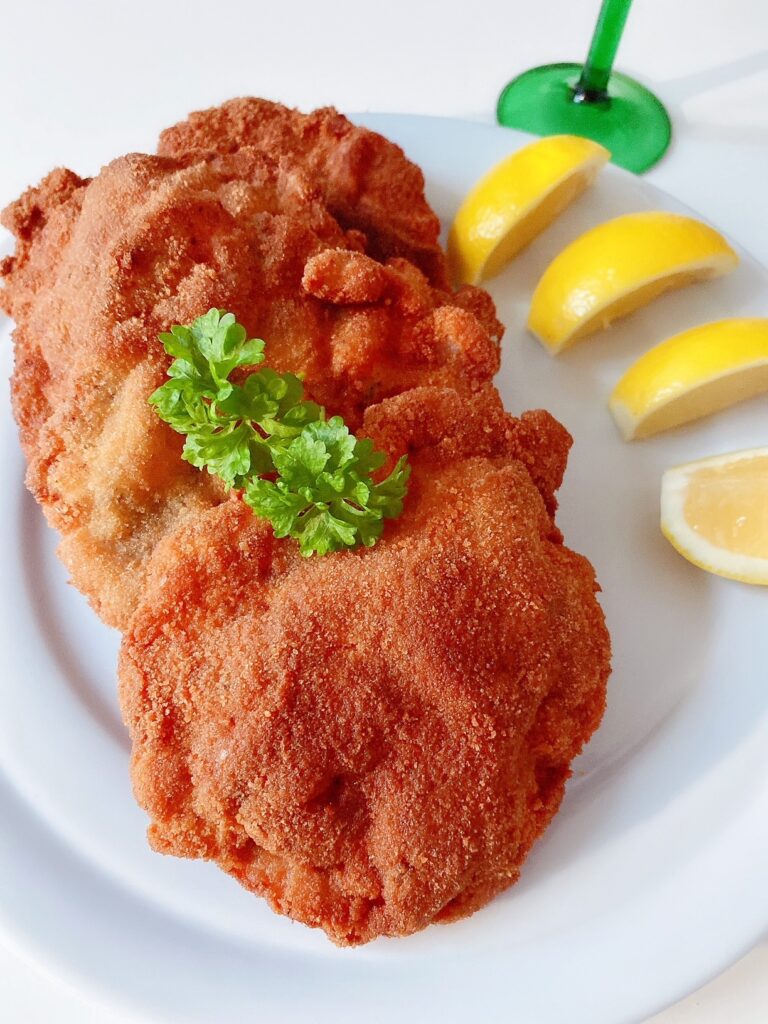 The Meat
Buy a Pork Tenderloin or a center-cut Pork Loin to ensure the leanest quality—a requirement for a perfect Schnitzel. I like to slice the meat myself to control the size I want, but you can have the pork sliced at the market or simply buy already-packaged fillets. Remember to remove most of the extra fat and skin. To make medium-sized schnitzels, I slice the meat about 1 cm thick and use a Meat Mallet to pound the meat really thin. If you don't own a Meat Mallet you can use the flat bottom of a heavy pot or pan, or even a rolling pin, to flatten the pork.
Chef's Notes
The traditional German Schnitzel is served without sauce and has only Lemon Slices and, maybe, Parsley. For personal preference, you opt for a homemade mushroom sauce or brown gravy. But truly, Lemon is all you need! Add potatoes, fries, asparagus, or a green salad to complement the Schnitzel. But, again, less is really more in the case of a good Schnitzel. Add a beer or wine!
You can refrigerate any leftovers. When serving, just pop it in a pan with some butter for about 1 minute on each side. Then it's ready to enjoy! Or you can eat it cold as a snack. I really love it that way too! Fried Schnitzel can also be frozen. Just thaw and pan fry as above. The quick sizzle and a bit of Lemon juice will do the job.
This Spicy German Pork Schnitzel is simple and easy to prepare. It is a quick solution for any meal and it is absolutely crispy, flavorful and delicious. I hope you will enjoy making this special Spicy German Pork Schnitzel recipe. The secret is in the Sichuan Peppercorns!
For more Sichuan Food inspiration, you can check out my Sichuan Dan Dan Noodles recipe.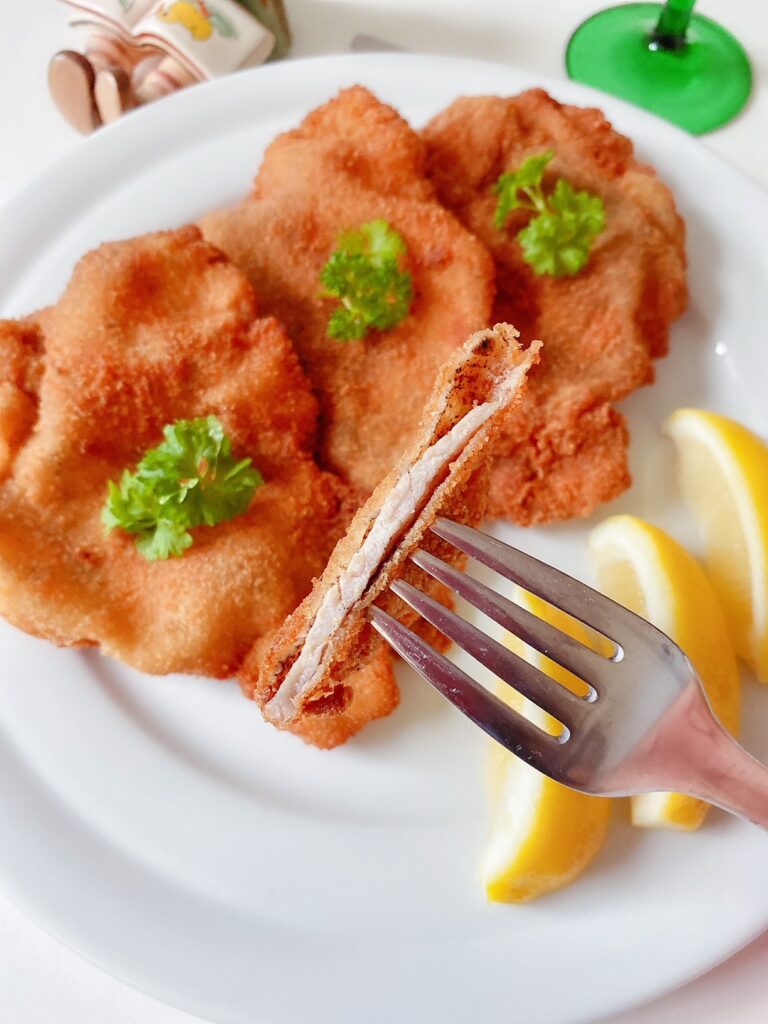 Here is the Recipe: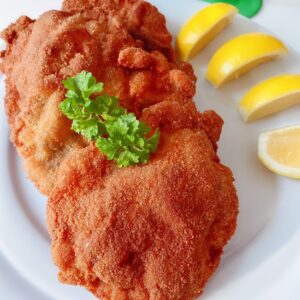 Spicy German Pork Schnitzel
This Spicy German Pork Schnitzel has a special flavor with wonderful crispiness. It is a perfect and a quick idea for any meal all year round!
Print
Pin
Rate
Ingredients
4

slices of center-cut Pork Loin or Tenderloin (1 cm thick)

1

tbsp

Sichuan Peppercorns (or more)

Some Salt

Some Ground Black Pepper

2

cups

All-purpose Flour

2

Eggs, whisked

2

cups

Bread Crumbs

4

Lemon Wedges

some Parsley for garnish

1-1 1/2

cups

Vegetable Oil for frying
Instructions
In a frying pan, toast the Sichuan Peppercorns on medium heat for about 1 minute. Remove from heat and grind the Peppercorns with a mortar and pestle. Set aside.

Cut Pork Loin into 4 slices about 1 cm thick. Cut off any skin and extra fat.

On a cutting board, place one piece of Pork on a sheet of plastic wrap, and add another layer of plastic wrap on top.

Use a Meat Mallet to pound the meat into really thin slices.

Season the meat with Salt, Ground Black Pepper and crushed Sichuan Peppercorns on both sides. Set aside. Repeat the procedure with the rest.

Prepare two large plates, one with All-Purpose Flour and one with Bread Crumbs. In a medium bowl, whisk two Eggs.

First, coat both sides of a pork slice in Flour. Then dip it in the Egg on both sides. Finally, quickly place on the Bread Crumbs and coat well. Repeat with all the slices.

In a large frying pan, add enough Oil for the meat to float. Turn heat to high.

When the Oil is hot, fry the meat about 2 minutes on each side until golden brown. Do not overcook. Remove and place on paper towels to drain.

On a dinner plate, put two or three slices, add a couple of Lemon wedges and garnish with a sprig or two of Parsley. Ready to serve!
Video