Honey-Buttered Korean Fried Chicken — this Korean specialty has become a global culinary favorite. The Honey Butter flavor caresses your taste buds and insists that one piece is not enough! Korean Fried Chicken is a popular choice as an appetizer, a main dish, or as an evening snack during Cable-TV movie time! There are many varieties, such as my Korean Fried Chicken with Sweet and Spicy Walnuts. I often adapt the classic recipe to a "fusion" concept. A few Almond Flakes add an insanely double crunchiness that supports the juicy tender dark meat that is so satisfying. Upon trying this for the first time, my boyfriend happily said, "Abracadabra! A magical experience!" The presentation is always enhanced by the almonds, a few chives or green onions, and a colorful serving dish. This is a delicious and attractive pleasure–exactly what I like to make!
Chicken and Double-Fry
For most of my recipes, I select lovely fresh chicken legs/thighs because of the juicy texture (e.g. Rich Drumstick Kung Pao Chicken and Chinese Sichuan Spicy Popcorn Chicken). The secret to a perfect crispy and crunchy fried chicken is Double-Fry. The extra benefit is that a quick Double-Fry seals the moisture into the meat. Please check out my video to watch the full instruction.
The Special Ingredient
My personal touch is to add Almond Flakes. You will be so surprised how this somewhat naughty (nutty) addition enhances the flavor of the butter and honey, and adds an extra crunchiness to the chicken skin.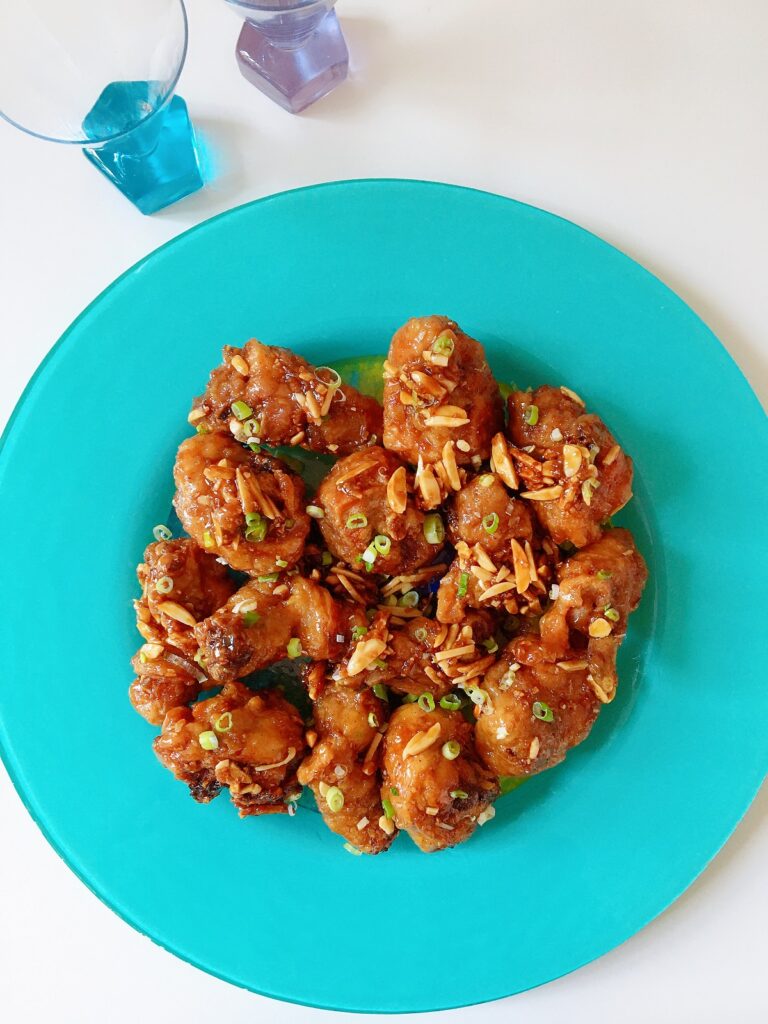 Honey Butter Sauce
There are 5 main ingredients in making the honey butter sauce: Unsalted Butter, Honey, Garlic, Brown Sugar, and Soy Sauce. Add some Chili Peppers for a spicy taste. I usually like hot spices in my recipes, but, surprise!—not for this one. I think the flavors precisely complement each other as it is.
Here are the Ingredients: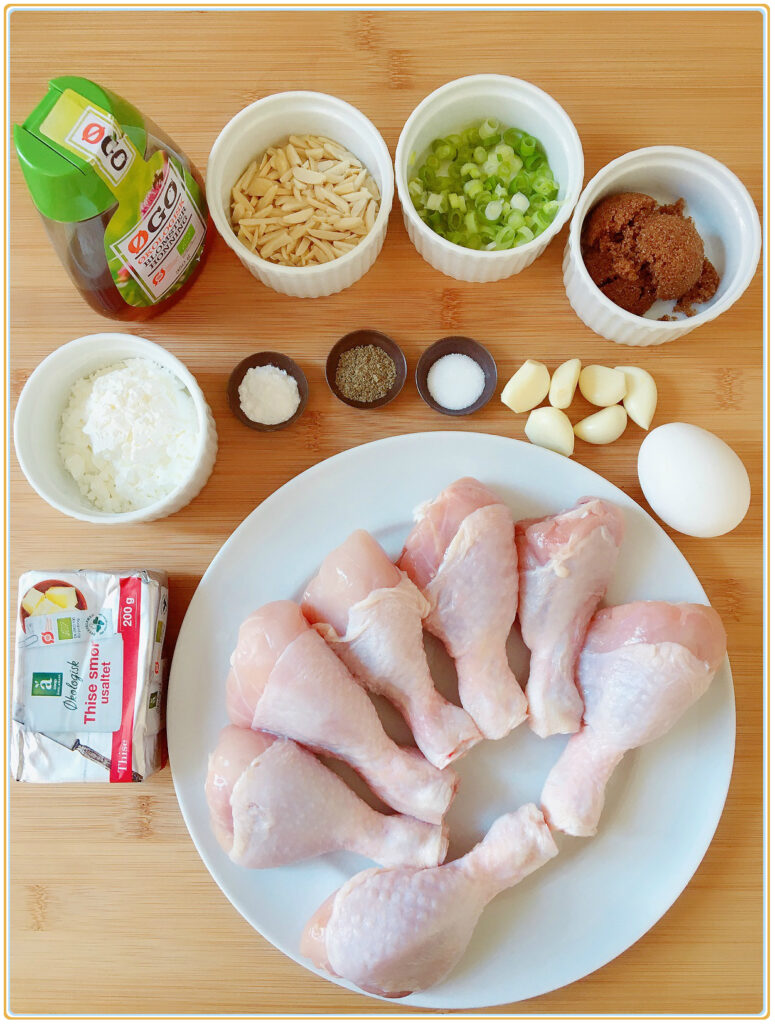 Here is the Recipe: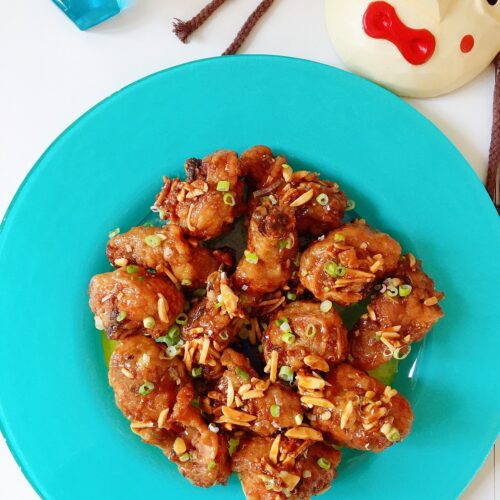 Honey-Buttered Korean Fried Chicken with Almonds
This Korean Honey Butter Fried Chicken with Almonds is full of flavors and has double crunchiness.
Print
Pin
Rate
Equipment
Ingredients
700

g

/ 25 oz Chicken Legs

1/4

cup

Almond Flakes

1/4

tsp

Salt

1/4

tsp

Ground Black Pepper

1/4

cup

Corn Starch

1/2

tsp

Baking Powder

1

Egg, room temperature

1 1/2

cup

/ 350 ml Vegetable Oil

1

Spring Onion, sliced for garnish (or chives)
Honey Butter Sauce
4

tbsp

/ 60 g Unsalted Butter

6

Garlic Cloves, minced

3

tbsp

Brown Sugar

2

tbsp

Light Soy Sauce

2

tsp

Honey
Instructions
Use a meat cleaver to cut the Chicken Legs in half. In a large mixing bowl, add the Salt, Ground Black Pepper, Cornstarch, Baking Powder, and Egg, and mix well with the chicken. Set aside.

In a wok or frying pan, add the Vegetable Oil and first-fry one-half of the Chicken on medium-high heat for 10 minutes until slightly browned.

Remove the chicken and drain. Repeat the process for the rest of the chicken: fry and drain.

For the second fry (the double fry), return all the Chicken to the wok and fry on medium-high heat for another 10 minutes until golden brown.

Drain the Chicken and set aside.

For the Honey Butter Sauce, clean the wok and return to medium heat. Add the Unsalted Butter. Once melted, add the Garlic, and stir for about 15 seconds until fragrant. Then add the Soy Sauce, Brown Sugar and Honey and stir for about 20 seconds. Turn the heat down to low.

Add all the fried Chicken and Almond Flakes and coat well. Before serving, add the sliced Spring Onions for garnish.
Video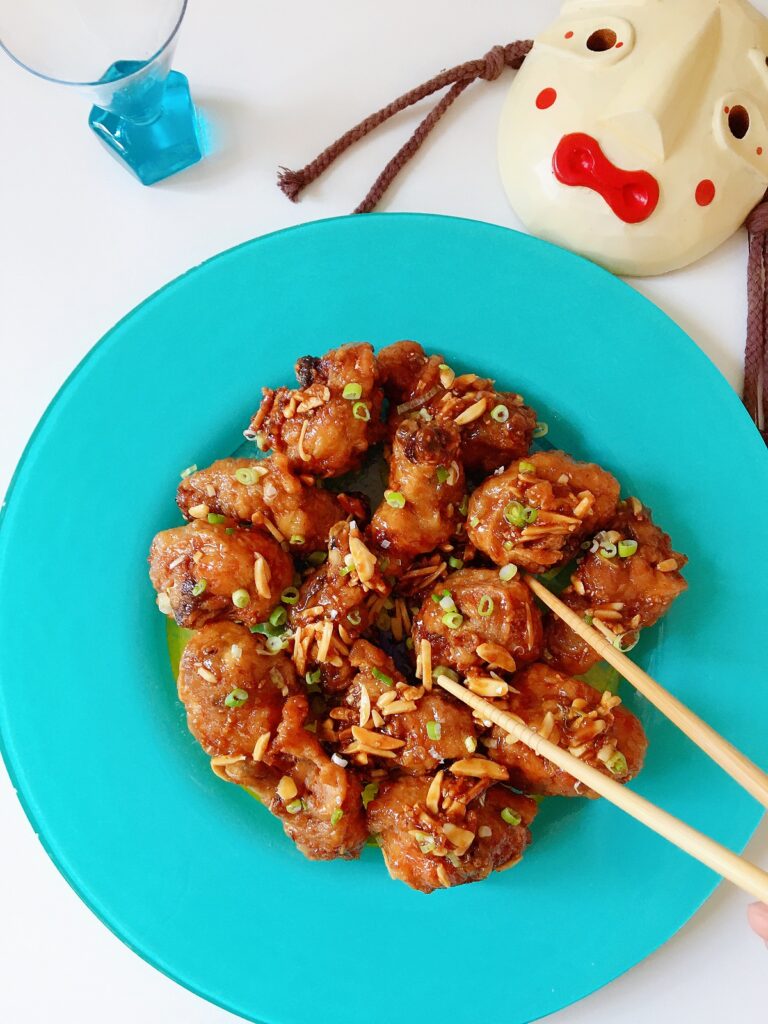 This Honey Butter Fried Chicken is divine and delirious. The flavors are so addictive that you will not be able to eat just one. It is perfect as a big snack when paired with a frosted glass of ice-cold beer.
I hope you enjoy making this Honey-Buttered Korean Fried Chicken with Almonds Recipe!